News from the Skagit County Democrats
Posted on March 14th, 2022
Skagit County Democrats Action Newsletter for March 14, 2022
DEMOCRATIC EVENTS
1. NEW – Democratic Legislative District Caucuses are scheduled for Saturday, Mar 26
The 39th Legislative District Democrats – "Are you interested in running to be a delegate to the Washington State Democratic Party convention on June 25th-26th? Then, you can file for one of the 16 delegate positions and 8 alternate positions below. Anybody in the district can run and this election will be held on March 26th at 10am via zoom (however only members can vote)." Click Here for the Registration Form.

The 10th Legislative District Democrats have scheduled their 2022 Caucus for Saturday, Mar 26, 10:00am via Zoom. The Caucus will select delegates and alternatives to the Jun 24 – 26 State Convention. "All candidates to be a delegate MUST declare themselves digitally by registering HERE! . . . The 10th gets to send 21 delegates and 10 alternates to the convention . . . For more information, contact chair@10thLDDemocrats.org."

2. NEW – Skagit County Democrats will continue to mandate facemasks at our Headquarters Office
While the Statewide mask mandate has been lifted for many situations, we will continue to require facemasks at our Headquarters until further notice.

3. NEW – Skagit County Commissioners thank Rep. Debra Lekanoff for culvert funding in State Capital Budget
Click Here for more information.

4. NEW – State Transportation Package passes; Guemes Ferry Replacement Project fully funded
Click Here for more information on the Guemes Ferry. Click Here for more information on the general Transportation package.

5. NEW – Legislative Session Highlights
The following was taken from the "Friday News & Action with Tina Podlodowski" of Friday, Mar 11.
"2022 Legislative Session Comes to a Close – Yesterday was the last day of the legislative session, and I wanted to run down some of the big issues we were watching and what our Democrats were able to deliver:
The supplemental state operating budget is investing more than a billion dollars into K-12 and higher education so students and teachers have what they need to succeed and to keep our schools open, safely, under COVID.
Democrats passed the greenest transportation plan ever, to maintain and improve our roads, invest in transit, bike, and pedestrian infrastructure, and more.
A massive investment in affordable housing construction and homelessness prevention, to help stabilize housing for thousands of Washingtonians.
Democrats are making prescription drugs more affordable by limiting drug-cost increases, and capping the cost of insulin at $35 per month.
We're keeping the public safe from gun violence, with protections from high-capacity firearm magazines and bringing guns to threaten public places like election centers and school board meetings.
We're protecting the right to abortion in Washington – all the more important with Roe v. Wade under threat from GOP Supreme Court justices at the federal level.

6. Call for Volunteers
"We can start to defend democracy this year by working on our local level. Volunteer to work in the office and pitch in to support our elected officials and those who are planning to run. You can work at your comfort level, whether it is writing post cards or thank you cards, or making phone calls, or answering phone calls. We welcome your thoughts and ideas for the future of our county. Current Office Hours are two-hour slots, at 10am, noon, and 2pm on Mondays through Thursdays, and we have openings. As we approach the primary and then election in November, we plan to have the office open on Fridays as well. Can you help? This is a great way to get active in our county!" If you are interested, please email staff@skagitdemocrats.org.

7. NEW – A message from 2nd Congressional Candidate Jason Call
"Skagit Democrats, Thank you certifying my Democratic candidacy for WA-02 for the 2022 cycle. I am [running] for the 2nd Congressional District seat for the second time. I'm a former HS math teacher and longtime progressive activist who has been a PCO in Snohomish County for over a decade, and also spent 4 years on the WA Dems Central Committee. I'm running on a progressive platform with NO corporate money, in support of Medicare For All and the Green New Deal. To see my other platform priorities, please visit my website www.callforcongress.com and sign up for my email list. Washington is a top 2 primary state, and I believe the best choice for the district can be made when there are two Democrats on the general ballot in November. Voters will have a choice between a truly progressive candidate and a moderate incumbent. In 2020, I got almost 35,000 votes for this seat, missing the general election ballot by less than 2600 votes. My campaign did this on a budget of barely $50,000 – 100% grassroots funding. This year we've already raised over $100,000 with 4700 individual donations averaging $22. Please find all my social media @CallForCongress, and please reach out to me for more information, I'm available at jason@callforcongress.com. I look forward to earning your vote in the primary on August 3rd. Solidarity, Jason Call"

8. NEW – Links of the Week
The Links of the Week provide in-depth pieces and resources the Editor has found to be relevant, insightful, and thorough on important issues of the day.
How Did This Many Deaths Become Normal?
Searching for "Shenandoah"
Why Congress needs to abolish the debt limit: Testimony before the House Budget Committee
When Billionaires Don't Pay Taxes, People "Lose Faith in Democracy"
COMMUNITY EVENTS
1. NEW – Why Independent Local News is Important to a Strong Democracy, Thursday, Mar 17, 5:30pm, online
"Online forum sponsored by nonprofit newsroom Salish Current in partnership with Village Books. Themed "Trust 2022: Why Independent Local News is Important to a Strong Democracy," with guest speakers Margaret Sullivan, Washington Post media columnist and author of "Ghosting the News: Local Journalism and the Crisis of American Democracy;" Bob Ferguson, Washington state attorney general and supporter of local journalism; and Hedrick Smith, Pulitzer Prize-winning journalist, documentarian and author of, among other books, "Who Stole the American Dream?" The event is open to the public and benefits Salish Current. A donation of $100 or more with your registration entitles you to a free book from Village Books, while supplies last. Free registration is required here."

2. Ukraine Aid Lists
Below are several lists of recommended agencies that are providing Ukraine Aid
NPR – https://www.npr.org/2022/02/25/1082992947/ukraine-support-help
BOSTON WCVB Channel 5 – https://www.wcvb.com/article/donations-for-ukraine-february-26-2022/39241164#
Global Citizen – https://www.globalcitizen.org/en/content/ways-to-help-ukraine-conflict/
Fortune Magazine – https://fortune.com/2022/02/25/how-to-help-ukraine/

3. The 8th Annual La Conner 2022 Daffodil Festival runs from Mar 1 – Mar 31

4. NEW – Public Health COVID Testing Site to Open at Cascade Mall on March 14
Skagit County Public Health will be opening a COVID-19 testing site at Cascade Mall, located at 150 Cascade Mall Drive in Burlington, beginning on Monday, March 14, 2022. The Fairgrounds testing site closed on Friday, March 4. Click Here for more information.

5. UPDATED – COVID-19 Information
Current Skagit County Information – The following is taken from the Skagit County COVID-19 Update of Mar 9

Local COVID-19 Case, Hospital & Vaccine Data

Skagit County's 14-day case rate has decreased by 31 percent since last week, and our hospitalization rate has decreased by 58 percent. One new COVID-related death was reported this week.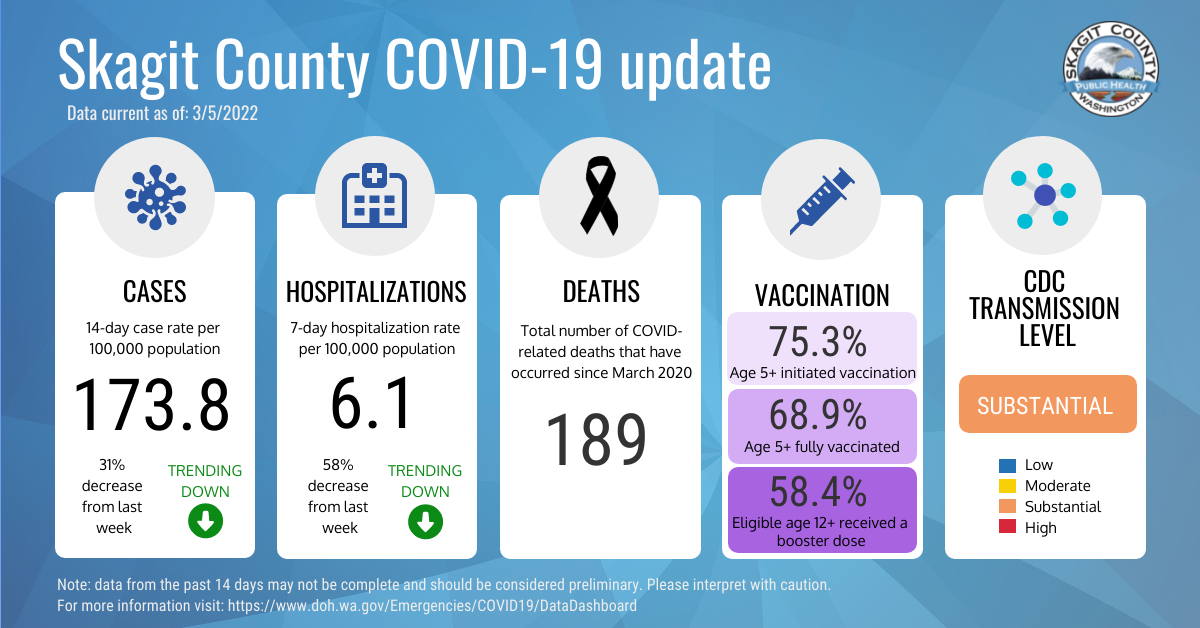 Statewide Indoor Mask Mandate Lifting March 12th

The statewide mask mandate will be lifted at midnight on Saturday, March 12th. At this time, masks will no longer be required in indoor locations such as restaurants, grocery stores, malls, public-facing offices, K-12 schools, and child care locations throughout the state. Updated K-12 and child care guidance can be found here: https://bit.ly/3hW4bet.The lifting of the mask mandate will not include certain indoor settings considered to be at high-risk for disease spread including healthcare settings, long-term care facilities, and correctional facilities. Following the lifting of the mandate, Washingtonians can continue to wear a mask if they so choose. This goes for businesses, as well, who will retain the right to choose stricter masking requirements if desired. Please note that state policies do not change federal requirements, which still include masks on public transit.

Masking in County Buildings

Skagit County will no longer require masking in county buildings beginning March 12th, in accordance with the lifting of the statewide mask mandate. Masking will continue to be required for all individuals 5 years and older, regardless of vaccination status, in medical settings such as the Public Health vaccination clinic and COVID-19 testing site. A mask will be provided if an individual does not have one.

Vaccine at the Public Health Office

COVID-19 prime, pediatric, and booster vaccinations are available at the Public Health office in downtown Mount Vernon at 700 S 2nd Street. The clinic is open Wednesdays, Thursdays, and Fridays from 11 a.m. to 4 p.m. To make an appointment, go to www.skagitcounty.net/COVIDvaccine or call (360) 416-1500. Walk-ins are also available.

Available appointments include:
Wednesday 3/16 –click here
Thursday 3/17 –click here
Friday 3/18 –click here

For a full list of vaccination providers available in Skagit County, go to Vaccine Locator or call the Hotline at 1-800-525-0127.

COVID-19 Testing Site at Cascade Mall

Skagit County Public Health will be opening a COVID-19 testing site at Cascade Mall, located at 150 Cascade Mall Drive in Burlington, beginning on Monday, March 14th. As a reminder: the Fairgrounds testing site closed on Friday, March 4th. The new site will be located on the east side of the mall parking lot near the old Johnny Carino's restaurant. Testing services will be available on Mondays and Fridays from 9:00 a.m. to 1:00 p.m. and Tuesdays and Thursdays from 1:00 p.m. to 5:00 p.m. For information about our site or for a full list of testing providers in Skagit County: https://www.skagitcounty.net/Departments/HealthDiseases/coronavirusTESTsites.htm.

At-home COVID-19 Testing

Free at-home test kits can now be ordered online through the following sites:sayyescovidhometest.org (no longer limited to one order per household)covidtest.gov (second orders now available to all households in the U.S.)If testing at home and you receive a positive test result, please call the state's COVID-19 Hotline at 1–800–525–0127 or the Skagit County Public Health office at (360) 416-1500.

If you have tested positive for COVID-19, are symptomatic, or have been recently exposed, please refer to the CDC's Isolation and Quarantine Guidance found here: https://bit.ly/3JQLIwF.
ANNOUNCEMENTS
1. The League of Women Voters of Washington has a group – ACT via Zoom (Action Coffee Time) – focused on topics currently being debated in Washington State Legislative session
Mondays, 10:00am – 11:00am (with optional 11-11:15 social time). Attend as your interest in a topic and schedule allows. Each session will be recorded for viewing anytime. The continuing Zoom connection link is:

https://us02web.zoom.us/j/82841749719?pwd=K3cweWNUbkg0bkM0ZzRML2U1TXVBdz09 – Meeting ID: 828 4174 9719. Passcode: 619917.

This week's session – Legislative Wrap up